Effectiveness is not enough!
"In the confusing jungle of training and methods, it is sometimes difficult for us to keep track. There are a lot of coaches, who each propagate and teach their own concept.
According to the motto "who heals is right", the use of aversive pressure in horse training is usually justified by the fact that the method works. The question of why something works often falls by the wayside. Yet this question is one of the most important when it comes to equine training."
Sylvia Czarnecki in "Ehrlich motiviert! – Positives Training mit Pferden", published by Cadmos Verlag 2016, Germany
Positive horse training with Sylvia Czarnecki
Learning theory is something very practically oriented: the theory of learning describes how a living organism operated within its environment, it follows laws of nature. My training is therefore focused above all on the nature of the horse and intent to carry out the training stress-free, non-coercive and without aversive pressure. The purpose of our training is to serve our horses by keeping them fit mentally and physically in order to improve their wellbeing and thus their quality of life.
"I did not reinvent the wheel, but maybe I rearranged the spokes so
it runs more smoothly

!"
I'm not teaching you a new, complicated concept or how to recycle my recipes. I'll teach you to understand the ingredients from which positive and horse-friendly training is made of. I want to empower you to make informed decisions in new or challenging situations so that you can decide what is best for you and your horse. With the knowledge of the learning theory, you are able to evaluate training professionally and also to assess the emotions of your horse correctly. With the help of the positive reinforcement, you can achieve better communication and an honest, joyful partnership.
"My goal is to create happy horses and humans, because only those who are happy can
can surpass themselves.

"
It's not only important to me that your horse is happy and content in the training, but also that you yourself feel comfortable with the training. Positive horse training not only means respecting the horse's personality, understanding their natural behaviors and demands, it also means working on oneself, being self-reflective and critical, and giving the horse time to understand us. Positive reinforcement isn't primarily a technique that you learn and use, it is a matter of attitude and a way to personally develop your skills with the horse and become independent without one of the partners falling by the wayside. We are responsible to help the horse cope with the human world.
Where I can help – Your topics, my knowledge
Positive horse training is based on the natural learning behavior of the horse and current findings of behavioral science. In this way, every area of horse training can be positively influenced. A holistic education in the sense of the horse is important to me, therefore I support you versatile in the context of my competences.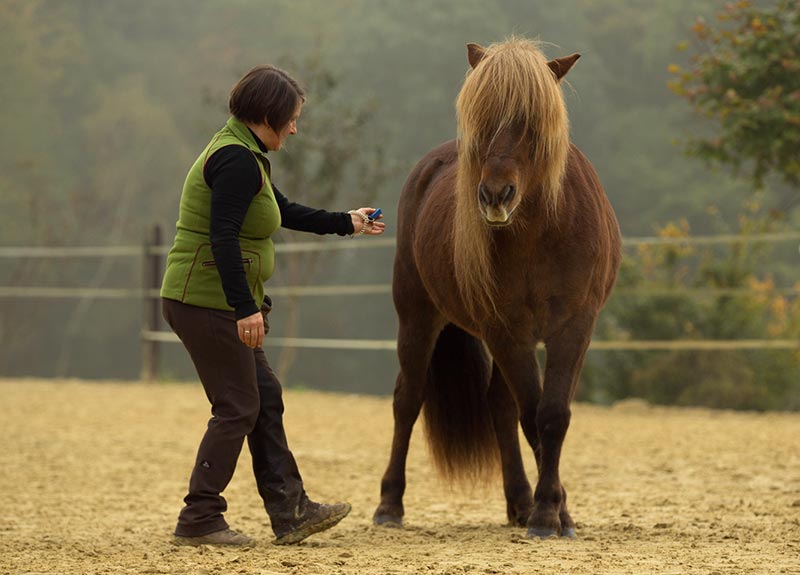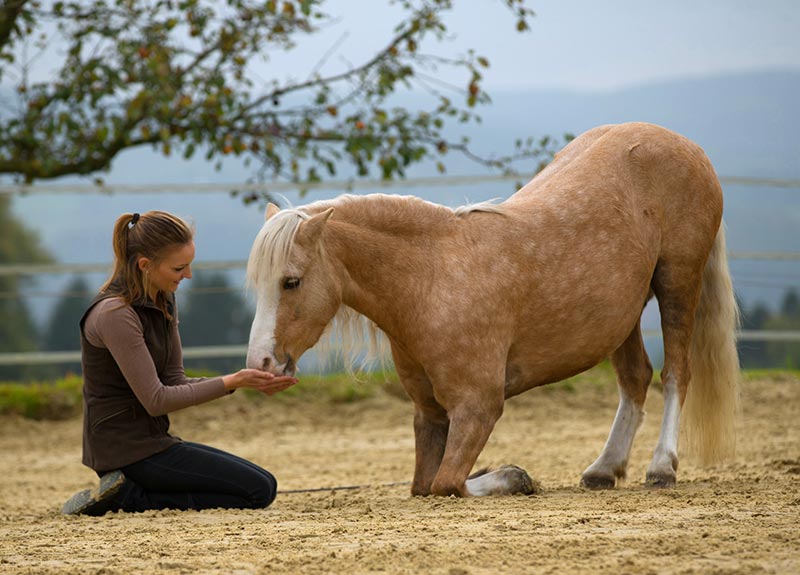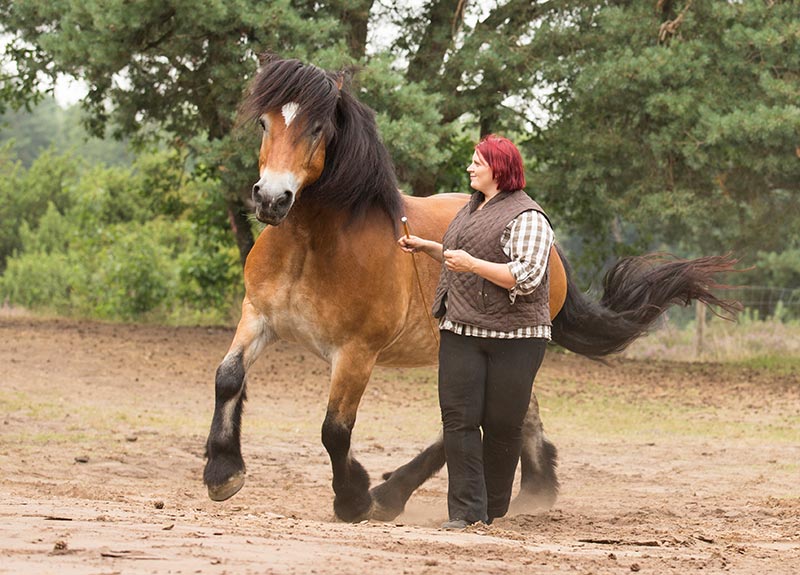 Gymnastics, health work
and mobility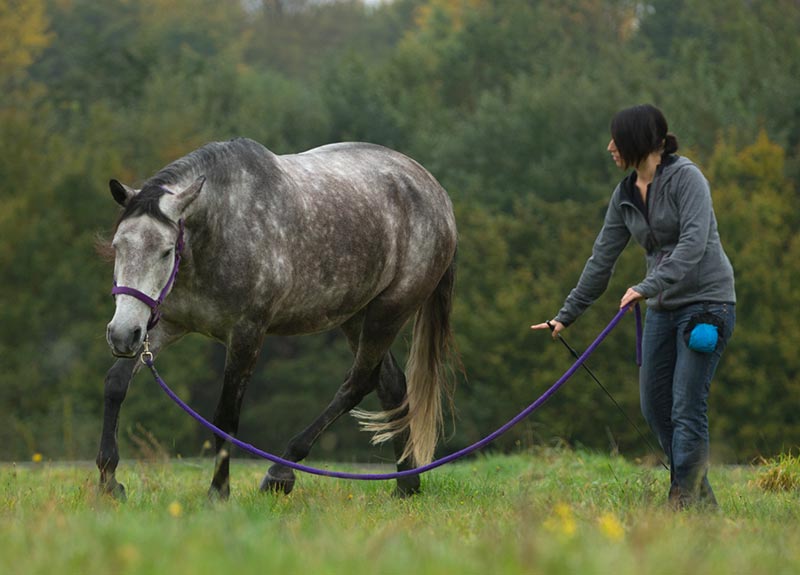 Cognitive activities
and non-strain-training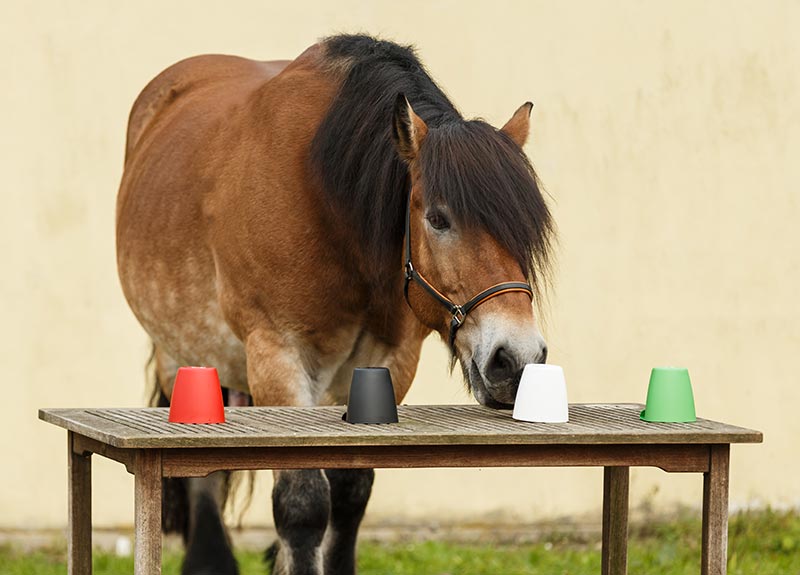 Everyday training, handling, behavior consulting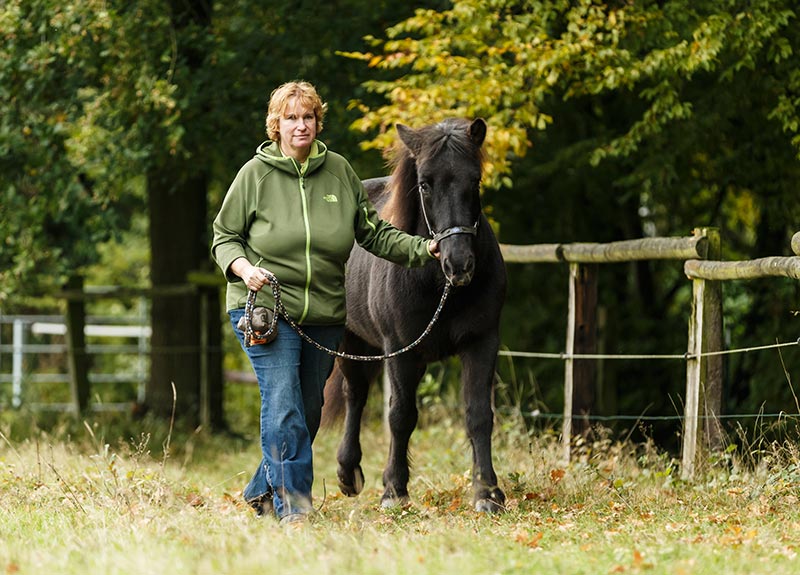 Courses, Seminars and Lessons
If you want to go home with a smile in the future, try something new or work on already learned lessons, then it's time we get to know each other. Outside Germany, I'm available for courses and seminars within all my above mentioned activities. Courses are a great opportunity for intensive training at every level of knowledge. 
For beginners, the intensive training offers in course form is ideal to strengthen the foundations and enable effective further learning. After the weekend, you should be able to continue training without my help, at least for a while. So I wish that after the course you are confident and well prepared for the practice. Experienced participants will be individually supported according to their level of knowledge. Especially gymnastics or liberty work is a popular advanced topic.
Individual topics and solutions are absolutely possible, please ask!
For course conditions and further information, please write me an E-Mail or contact me through the contact form.
Especially with larger distances, online coaching is a good way to help you with your training. With the help of short videos of your training or on a specific situation, I can provide you detailed feedback that will help you through difficult situations or just to improve your training and relationship with the horse.
For conditions and further information, please write me an E-Mail or contact me through the contact form.